More than half of US public school students live in poverty, report finds
Want to know the real state of the US economy? Visit a local public school and find out how many student qualify for free or reduced-price lunches.
A new report found that, at 51%, the number of children who qualified for federal programs for free or reduced-price lunches is the highest in at least 50 years,according to the Southern Education Foundation. In other words, in 2013, more than half of the students attending public school lived in poverty.
The Southern Education Foundation found that with each passing year, an increasing number of states are seeing ​needy children in their classrooms.
In 2013, 21 states reported that the majority of students in their public schools came from low-income families. That's a huge jump from 2011, when 17 statesreported such majorities. Ten years ago, it was only four states.
There is a geographical element to poverty. Thirteen of those states with a majority of low-income students in their schools are located in the south, six in the west. Mississippi is faring the worst, with 71% of its public school students coming from low-income families. In Texas, that number is 60% and in Alabama 58%.
In 19 other states, including New York, low-income students made up between 40% and 49% of the states' public school enrollment, the report found.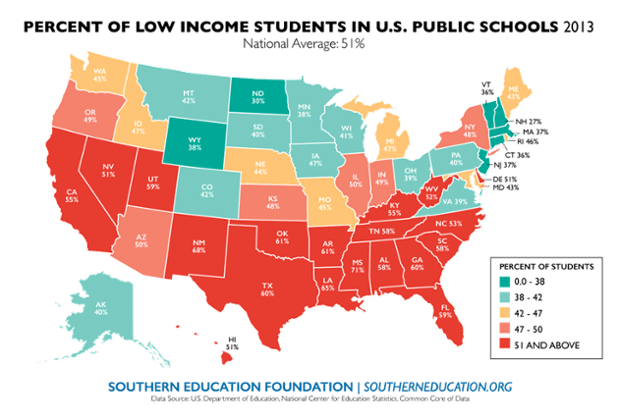 To deal with the number of US children that tend to go hungry, many food banks have added child nutrition programs​. Despite the conservative politics of many ​southern states, there is a consensus that children need proper nutrition and assistance.
"Even the toughest, hard-nosed, anti-government-funding person would say: 'Well, kids ought to be able to eat good,'" Dave Reaney, who runs a food bank in Theodore Alabama, told the Guardian. "We try to make sure that they understand that whether you like it or not, [food stamps] help kids and kids can't help themselves."
The growth of American poverty is drawing interest from policymakers. To be more in touch with the people left behind by the current recovery – the "low- and moderate- income populations" – the Federal Reserve board of governors announced on Friday that it is creating an advisory council.
The Center for Popular Democracy cheered the Fed's move away from a focus on the demands of banks and the stock market, saying: "The decision-making process within the Fed has, for too long, been dominated by the priorities and voices of banks and corporations. ... It is essential that the Council include genuine representatives of working families and communities of color across the country."