Donald Trump's use of grammar 'typical of children aged 11 and under'
The grammar used by Donald Trump in his speeches as he campaigns to become the Republican presidential candidate corresponds to that used by students aged 11 and under.
The 69-year-old businessman's language tailed his counterparts. Ted Cruz and Marco Rubio - although he has now dropped out of the race - both used grammar corresponding to children aged between 11 and 14 - students between grades six and eight in the US.
But their vocabulary was more advanced and matched students aged between 13 and 16.
They found that the Democratic presidential candidates also used grammar typical of students aged between 11 and 14.
But the vocabulary used by Bernie Sanders was more advanced than that used by Hillary Clinton. The 74-year-old Vermont senator uses words similar to those used by students aged between 15 and 18.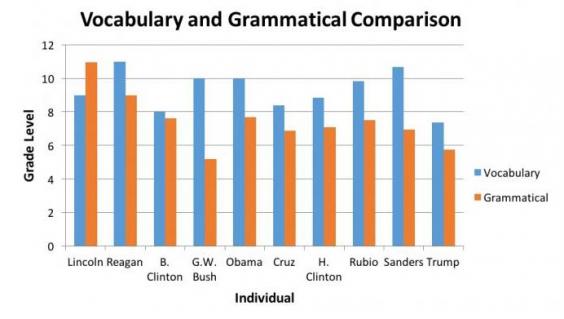 The researchers also compared the speeches of the current presidential candidates to past leaders. The historical review showed the language used by Abraham Lincoln, the US president from 1861 to 1865, and Ronald Reagan, who led from 1981 to 1989, was more advanced.
George W Bush had the least advanced level of grammar out of all the subjects. However, he and incumbent president Barack Obama had the same level of vocabulary.
Elliot Schumacher, one of the people behind the study, said the speeches of Mr Trump and Ms Clinton showed the greatest language variation, indicating that they worked harder to tailor them to appeal to particular audiences along the campaign trail.
Maxine Eskenazi, who also carried out the study, said: "Assessing the readability of campaign speeches is a little tricky because most measures are geared to the written word, yet text is very different from the spoken word."