Sikh man detained on Greyhound bus after being falsely accused of terror bomb threat | 'The only crime I committed was wearing a turban, having a beard, and speaking in a different language'
A Sikh man who was pulled off a bus and detained for 30 hours after being heard speaking in Punjabi, is demanding officials bring charges against the fellow passengers who falsely accused him of making a terror bomb threat.
Daljeet Singh, who is originally from India and was recently granted asylum in the US, was taking a Greyhound bus from Phoenix, Arizona, to Indianapolis, Indiana.
On the bus, Mr Singh, who, as an observant member of the Sikh religion was wearing a beard and a turban, began talking with another passenger who also spoke Punjabi. It later transpired the man, Mohammed Chotri, was was an immigrant from eastern Pakistan, where Punjabi is commonly spoken.

According to a complaint filed by Mr Singh and the Sikh Coalition, a woman on the bus reported to police that the two men were "acting weird," speaking Arabic, and discussing a bomb. In Amarillo, Texas, two other passengers detained Mr Singh and Mr Chotri in their seats until police came and arrested them at gunpoint.
Police also removed Ms Singh's turban and distributed mug shots of him without his turban to local media. He was detained for around 30 hours. After being interviewed by the Federal Bureau of Investigation through a Punjabi language interpreter, both men were cleared of all allegations of wrongdoing, and no charges were filed.
"The only crime I committed was wearing a turban, having a beard, and speaking in a different language to another brown man on a bus," Mr Singh, who speaks little English, said in a statement. "I still cannot believe that this happened to me in America."
The Sikh Coalition, an activist group, has helped Mr Singh file a lawsuit demanding charges be brought against the woman who alerted police, and the two men who detained him in his seat.
"Whether it's a Sikh man on a Greyhound bus, or an Arabic speaker on a Southwest airplane, the xenophobic fear and bigotry in our country is out of control," said Gurjot Kaur, a senior lawyer at the Sikh Coalition.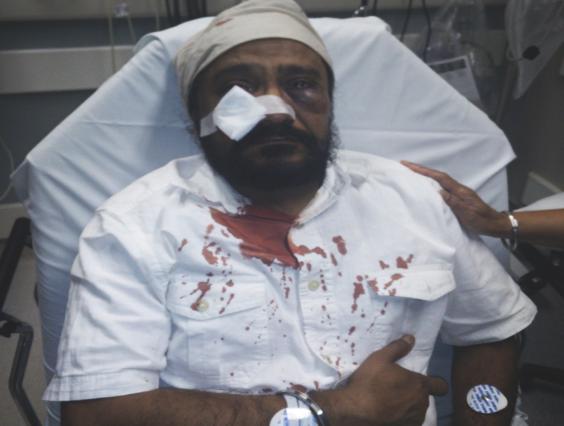 "By filing this complaint, we hope to bring attention to the crisis facing minority communities today. The list of things brown people can't do on public transportation is growing — we cant get a can of Diet Coke, we can't switch seats on a bus or a plane, we can't speak in a language other than English, really we can't be human beings."
Potter county attorney Scott Brumley told local media he had received a copy of the complaint from the Sikh coalition and the investigation into the passenger who made the complaint was ongoing.
He said it was a difficult case to prosecute because of the need to show proof the passenger knowingly filed a false police report.
Sikh campaigners have pointed to an apparent increase in attacks on members of the Sikh faith.