A man sleeping rough on the streets of Glasgow waited hours in the rain to guard a stranger's £450 and stop it from being stolen.
James John McGeown saw the cash inside a bag left on the front seat of a parked car that had been left with its window open.
Believing someone would likely walk past and snatch the money, he stood by the car for more than two hours waiting for the owner to return.
Eventually, he reached into the car, took out the bag and handed it to the nearby Livingstone Brown solicitors, who confirmed Mr McGeown had stopped the bag off.
When owner John McMonagle, who owns a chip shop in Clydebank, returned to his car with his colleague, Alyshia, he found a note saying his bag was safe.
Praising Mr McGeown for his kind act, Mr McMonagle has now set up a Go Fund Me page to raise £5,000 for him and other homeless people in the area.
Speaking to the Independent, Mr McMonagle said he was hugely grateful to Mr McGeown.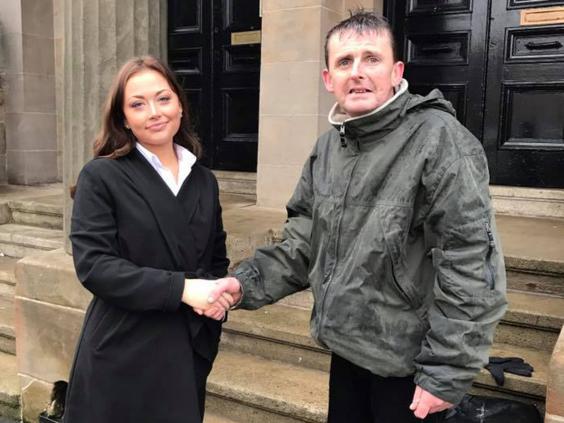 "I spoke to him and he's a lovely guy, we spoke at length. It's amazing, he had the £450 in his hand – I mean the car is worth £35,000 too," he said.
"So he knows I'm not skint, and he walked across the road and handed to the lawyers because he was too cold.
"He could have walked away with it and could have bought himself a new pair of boots."
He added that the action of reaching into the car to take the money could have been dangerous for Mr McGeown, had a member of the public spotted him and assumed he was stealing.
"It's funny because we support opposite footballs teams in Glasgow and my football scarf was on the back seat," Mr McMonagle added.
More than £3,000 has been raised of the £5,000 target so far.
"We are raising money for James John McGeown and homeless people in Glasgow and Clydebank the money will be entrusted to John McMonagle to use for the above," he wrote.
"Also the first £5,000 will go exclusively James John McGeown.
"(He) will get a minimum of 10 per cent (with) the rest going to the above homeless community."