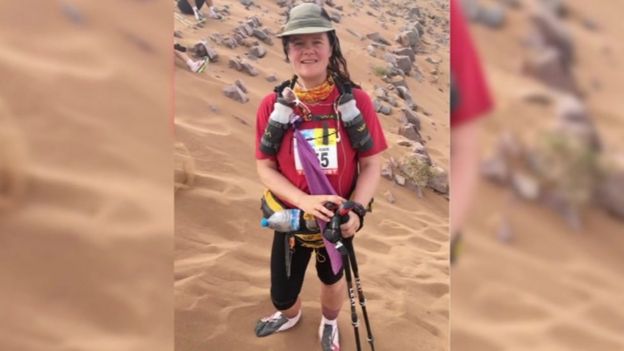 A mum-of-two gave up alcohol and smoking to conquer a 250km desert endurance race in 40°C heat.
Emma Burnett, from East Yorkshire, has completed the Marathon de Sables in the Sahara Desert, in Morocco.
She said losing two members of her family spurred her to not "want to waste my life being overweight... while drinking prosecco and smoking".
The 41-year-old, from East Cottingwith, near Pocklington, has raised more than £1,500 for a Parkinson's charity.
She said she overcame "soaring temperatures, blistering pain and exhaustion" to finish the marathon in memory of her grandfather, Peter Milner, who died last year after being diagnosed with Parkinson's Disease.
Mrs Burnett also lost her father-in-law after battling cancer earlier this year.
The runner said she felt her grandfather "was with me in spirit" when she struggled with heat exhaustion.
"I thought about my grandfather a lot," she said.
"When I felt a breeze I felt that was him trying to push me along probably telling me, because he was such a Yorkshireman, I was just being an idiot for doing it and I should just go get a pint."
Mrs Burnett said she had done "some running" before entering the marathon, which she described as "a very cathartic experience".
She said: "I was overweight and unfit, but there's no reason why I couldn't put one foot in front of the other and achieve whatever I wanted to achieve.
"And for me that was running 250k through the Sahara desert."
Mrs Burnett's family said they were left stunned by her achievement.
Her mother, Fran Appleton, said: "I'm so, so proud of her. Watching her on the television, waiting for her to come in to the finish line was just amazing.
"I've cried a lot with pride."